EDDIE MULLER AT LARGE
January 20-29, 2023
NOIR CITY 20 Celebrates Its Emerald Anniversaryl
NOIR CITY returns to Oakland's Grand Lake Theatre January 20 - 29, 2023, celebrating 20 years of the Film Noir Foundation's flagship festival! Programmer and host Eddie Muller will present a ten day-and-night schedule of films all from one year—1948—meaning every movie will be celebrating its 75th anniversary!
As usual, the selection is an eclectic mix of star-studded classics — Key Largo, Lady from Shanghai, Road House, and Sorry,Wrong Number and lesser known gems rarely seen on the big screen — Larceny, Sleep My Love, The Hunted, and The Velvet Touch.
The full schedule, Passports (all-access passes), individual tickets, and program notes are available at NoirCity.com
March 24-27, 2022
NOIR CITY
The 19th Annual Film Noir Festival
The NOIR CITY film festival returns from COVID hiatus for an incisive and inspiring four-day festival at a new venue, Oakland's historic Grand Lake Theatre, March 24-27. Produced, programmed and hosted by Film Noir Foundation president Eddie Muller, 2022's edition, subtitled "They Tried to Warn Us!", showcases 12 movies from mid-20th century Hollywood sure to resonate with contemporary viewers. Included are shockingly prescient films focusing on megalomaniacal politicians, corrupt businessmen, neo-Nazis, racism, anti-Semitism, sexual predators, serial killers, police brutality — even a viral epidemic! This NOIR CITY program could not be more timely or topical.
For the return to in-person screenings, Muller has shifted the event to Oakland after many years at San Francisco's Castro Theatre. The Grand Lake's vintage movie palace atmosphere and the care and upkeep of the venue work perfectly for the type of show NOIR CITY loyalists have come to expect. To ensure festival attendees' safety, proof of vaccination is required and mask protocols will be enforced.
NOIR CITY 19: The Bay Area Film Noir Festival will open Thursday night, March 24, with a double bill. First up, All the King's Men (1949), the noir-stained 1950 Best Picture Oscar winner, starring Broderick Crawford as Willie Stark, an ambitious Southern politician who doesn't let ethics interfere with his meteoric political rise. Crawford won a Best Actor Oscar for his performance. It's paired with the FNF's latest 35mm restoration — The Argyle Secrets, a 1948 B-picture directed by Cy Endfield, returned to circulation this year through the partnership of the Film Noir Foundation and UCLA Film & Television Archive. The film's mystery centers around "The Argyle Album" containing the names of U.S. politicians and industrialists who abetted the Nazis in World War II.
January 24-February 2, 2020
NOIR CITY: INTERNATIONAL II
The 18th Annual San Francisco Film Noir Festival
America doesn't have a monopoly on swaggering gangsters, larcenous lovers, surly ex-cons, corrupt cops, and scheming femmes fatales. Six years after the first NOIR CITY: INTERNATIONAL—the Film Noir Foundation is at it again: presenting an array of classic films from around the globe, a wide-ranging, thematically cohesive immersion in a sordid world of sinister and sexy affairs—including the world premieres of two new restorations by the Film Noir Foundation! Yes, "It's a Bitter Little World"— but for ten days and nights at the majestic Castro Theatre, NOIR CITY is cinema paradiso! As always, the festival is programmed and hosted by Eddie Muller, internationally renowned "Czar of Noir" and host of the popular Turner Classic Movies series Noir Alley.
For veteran cinephiles, it's a chance to again experience cherished cinematic masterpieces in a bona fide movie palace. For those just starting their cinematic journey, NOIR CITY is the perfect introduction to a wide world of international filmmakers and stars, on the big screen, larger than life. The 10-day excursion travels through hot-blooded nightclubs of the Mexican cabareteras, neon-streaked alleys of Japanese yakuza thrillers, the stylish Parisian underworld, Italian palazzos hiding crimes of every social strata, a Kafkaesque Prague as envisioned by the Czech New Wave — even a rare serial killer film set in Nazi Germany made by Hollywood's finest director of film noir, Robert Siodmak. Tour guides include some of the world's most revered filmmakers: Michelangelo Antonioni, Andzrej Wajda, Julien Duvivier, Jean-Pierre Melville, Roberto Gavaldón, Jirí Weiss, and Masahiro Shinoda.
"Now, more than ever, it's essential to resist the dread and paranoia of contemporary times by looking beyond our differences," says Muller. "Let's appreciate the noir ethos for the creativity it inspires and the warning flares it long ago flashed on screens worldwide. Noir has no national boundaries. It's the same story, everywhere."
Can't make it to San Francisco for the festival? Don't worry, NOIR CITY will take its show on the road with satellite festivals in Seattle, Hollywood, Austin, Boston, Chicago, Detroit and Washington D.C.
January 25-February 3, 2019
NOIR CITY: San Francisco
Celebrating its 17th year, NOIR CITY, the largest annual film noir festival in the world, returns once again to the majestic Castro Theatre for a 10-night feast of danger, desire, and despair, January 25-February 3, 2019. Film Noir Foundation prez Eddie Muller will once again lead audiences on a fun and fascinating excursion through "Hollywood's only organic artistic movement."
This year's program extends last year's chronological pairings of "A" and "B" from the 1940s into the 1950s, offering viewers a slate of films that track noir through the declining studio system and into a fresh cinematic landscape where noir was refashioned, both subtly and radically, for a new generation.
"I call it curated time-travel," says Muller. "We start out in the classic era at the peak of the noir movement and with each successive show we move relentlessly toward revolution—a 1960 double bill of Psycho and Breathless, two movies that effectively changed noir, and movies, forever."
As usual, the program features an eclectic mix of established classics and rarely screened obscurities culled exclusively by the FNF from studio vaults and film archives. Opening Night, January 25, will feature the world premiere of our latest 35mm restoration, Trapped—a 1949 noir from short-lived Eagle-Lion Films, starring Lloyd Bridges and scandal-plagued starlet Barbara Payton.
"NOIR CITY remains the only film festival in America in which 100% of the box office proceeds directly go to funding the restoration of films," Muller states. "We are anticipating another fabulous festival, in which murder, betrayal, and deceit bring together people from all over the world to blissfully commune in their shared passion for film noir."
January 26-February 4, 2018
NOIR CITY: San Francisco
NOIR CITY 16 made a victorious return to its home at the historic Castro Theatre with its largest audience yet, selling out the 1400 seat movie palace on multiple nights. "Film Noir from A to B" took audiences back in time with a program of 12 genuine "A" and "B" double bills, spanning the breadth of the original film noir era, 1941 to 1953. The festival presented 24 classic noirs as they were experienced on their original release, pairing a top-tier studio "A" with a shorter, low-budget second feature, or "B" film. All but one of the films were presented in glorious 35mm.
As always, NOIR CITY producer and FNF founder and president Eddie Muller guided attendees through the blind alleys of NOIR CITY. But he wasn't all alone. Victor Mature's daughter Victoria Mature joined the Czar of Noir on opening night to introduce H. Bruce Humberstone's I Wake Up Screaming (1941), starring her father and Betty Grable. Victoria surprised the crowd with an impromptu rendition of Street Scene while discussing the film's score. As usual the current Ms. NOIR CITY, Annabelle Zakaluk, also joined Eddie on stage during the festival's evening performances. On January 31, Michael Curtiz - A Life in Film, author and FNF board member Alan K. Rode introduced Curtiz' The Unsuspected (1947). The FNF's latest restoration "re-premiered" on Saturday night, February 3—The Man Who Cheated Himself, an independently made noir thriller from 1950 shot on location in San Francisco.
January 27-29, 2017
NOIR CITY: San Francisco
NOIR CITY 15, the 2017 incarnation of the world's most popular film noir festival, at the legendary Castro Theatre, presented 24 exceptional films ranging from the mid-20th century to today and culled from all parts of the globe. "The Big Knockover" is a veritable history of the heist film, from black-and-white Hollywood classics such as Criss Cross (1949) and The Asphalt Jungle (1950) to stunning contemporary thrillers like El Aura (2005) and Victoria (2015). NOIR CITY 15's lineup explored, in films both suspenseful and comedic, the desperate lengths to which people will go to beat the system and hit the big time.
October 21—25, 2016
The Humphrey Bogart Film Festival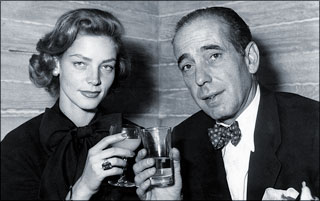 Eddie Muller co-hosted the The Humphrey Bogart Film Festival at its tropical home in Key Largo, Florida, with Bogart and Bacall's son, Stephen. All four of the films that the superstar couple made together will screen, including John Huston's Key Largo (1948). Other films in the line-up include two film noir masterpieces, Huston's The Maltese Falcon (1941) and Nicholas Ray's In a Lonely Place (1950).
Documentarian Monika Henreid will also be a guest during the festival. She is the daughter of Paul Henreid, Bogart's co-star in Casablanca, also playing during the festival. Henreid and Muller will join Bogart in a round table discussion of his father's work. In addition to film screenings, there will also be the festival's first student film competition and several special events to give festival patrons a chance to socialize. Check out the official website for full festival information including the schedule and ticket information.
October 17, 2016
Eddie Goes to Washington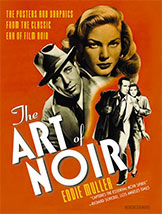 Explore The Shadowy History of Film Noir with Eddie Muller on Saturday, October 17, 5:00 p.m. to 7:00 p.m. at the AFI Silver Theatre and Cultural Center. Eddie has curated a collection of film noir clips to illustrate the audience's dark journey through the tropes, aesthetics and history of the genre. Champagne will be served in the lobby of the theater during Eddie's post-presentation book signing. He will be autographing copies of his lavish, full color book The Art of Noir: The Posters and Graphics from the Classic Era of Film Noir.
This event is the perfect prelude to NOIR CITY: D.C. which kicks off directly after the event and runs through October 29 at the AFI Silver. Ticket buyers have the option to add an admission to the opening night screening of the FNF funded 35mm restoration of Woman on the Run (1950) at 7:00 p.m. Tickets are now available online. This event is a presentation of The Smithsonian Associates in collaboration with AFI Silver Theater and Cultural Center.
October 2—4, 2015
NOIR CITY: Kansas City
Eddie Muller will be your host for NOIR CITY: Kansas City on October 2 through the 4th. The lineup includes two new 35mm Film Noir Foundation funded restorations: Woman on the Run (1950) and The Guilty (1947). A new 35mm FNF funded print of the 1952 Argentinian film noir No abras nunca esa puerta (Don't Open That Door) and of The Underworld Story (1950) will also screen.
The NOIR CITY Nightclub returns on Opening Night to The Chesterfield, the stylish club adjacent to the theatre. Chanteuse Laura Ellis and burlesque queen Evie Lovelle are expected to perform their magic again this year! assports (full series passes) as well as tickets for the Night Club and individual screenings are now on sale at the official NOIR CITY Kansas City website.
September 18—September 20, 2015
NOIR CITY: Portland
NOIR CITY: Portland settles in for its third edition at The Hollywood Theatre, September 18-20.
The festival opens with two FNF-funded restorations, Woman on the Run (1950) and Joseph Losey's The Prowler (1951). An onstage conversation with Eddie Muller and Hollywood Theatre board member Ted Hurliman, followed by a book signing for Eddie's Gun Crazy: The Origin of American Outlaw Cinema opens Saturday's programming. In the evening, there'll be a double feature of Gun Crazy (1950) and a rare screening of Fly-By-Night (1942). The festival closes Sunday night with a double feature of the noir classic Nightmare Alley (1947) and the relatively unknown gem, Abandoned (1949). Eddie will be on hand all weekend to introduce the films.
August 28—September 3, 2015
NOIR CITY: Chicago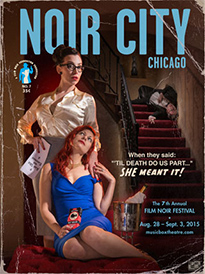 Eddie Muller hosts opening weekend for NOIR CITY: Chicago in its return to the historic Music Box Theatre. Two Film Noir Foundation-funded 35mm restorations will screen: Norman Foster's Woman on the Run (1950) starring Ann Sheridan and John Reinhardt'sThe Guilty (1947), based on a Cornell Woolrich story.
New prints of two classic Argentine noirs funded by the FNF will also screen, No abras nunca esa puerta (Don't Open That Door) (1952) and Si muero antes de despertar (If I Die Before I Wake) (1952), both also based on the works of Woolrich. A new 35mm print of Cy Endfield's The Underworld Story (1950), starring Dan Duryea, will screen courtesy of the Film Noir Foundation collection at UCLA Film & Television Archive. Visit the Music Box website for more info.
June—July, 2015
Eddie Hosts TCM's Summer of Darkness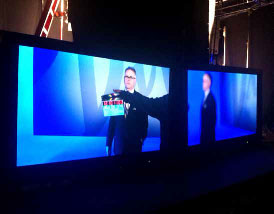 Eddie Muller hosts the network's "Summer of Darkness" this June and July on Turner Classic Movies. During those months TCM will dedicate 24 hours each Friday to a lineup comprised exclusively of film noir. Muller will present four movies each night during prime-time, 36 films in all, as host of TCM's "Friday Night Spotlight." In addition to serving as on-air host, the "Czar of Noir" also chose the films he'll be presenting.
"I'm grateful to TCM for the chance to share my passion for these films," Muller said. "And I'm pleased that they let me throw in the occasional pitch for the Film Noir Foundation."
In fact, Eddie will be hosting the TCM broadcast premieres of two FNF restorations, Woman on the Run (June 5) and Too Late for Tears (July 17). Some of his other selections include thematic groupings that focus on San Francisco, wartime noir, John Alton, the King Brothers, and much more. View the TCM Summer of Darkness Festival page here.
June 6, 2015
Eddie at Film Forum Screening of Gun Crazy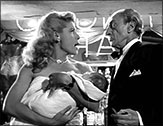 Eddie Muller appears Saturday afternoon, June 6, at Manhattan's legendary Film Forum to host the screening of Joseph H. Lewis' Gun Crazy (1950) and sign copies of his new book! Film Noir Foundation board member and film scholar Foster Hirsch will introduce Eddie. Eddie will also stick around to introduce the Mexican noir classic Victims of Sin (2014 NOIR CITY festival audience favorite), playing as part of a tribute to cinematographer Gabriel Figueroa.
Meet Eddie and get a signed copy of his latest book, Gun Crazy: The Origin of American Outlaw Cinema. Packed with never-before-seen ephemera—original script pages (some never filmed), production notes, on-set photos—this thoroughly researched and vividly told tale explodes many of the entrenched myths about Gun Crazy as well as the auteur theory itself. Read more about Gun Crazy here.