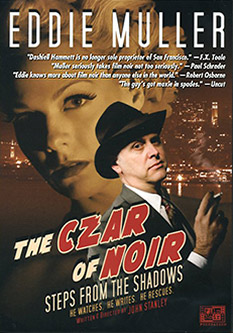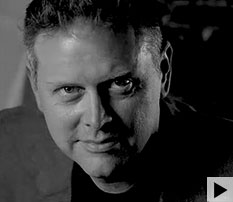 View the promo for The Czar of Noir.
SAYS EDDIE I had some trepidation about participating in a long form documentary-interview about myself, but because it was John Stanley, I simply couldn't say No. John is such a wonderful guy, and was such a big inspiration to me at an early age. I think he and Wayne Hess did a super job with this DVD, given that it was such a shoe-string budget. And with The Grand Inquisitor included, a think it really is a bargain.
THE CZAR OF NOIR: EDDIE MULLER STEPS
FROM THE SHADOWS
A DVD biography (2010, 58 minutes)
Written & Directed by John Stanley
Produced by Wayne Hess & John Stanley
» ORDER BY PAYPAL
or send check or money order to:
John Stanley at 1082 Grand Teton Drive, Pacifica CA 94044.
Price: $20. Please add $3 for postage and handling.
TOTAL: $23.
Film noir has become one of the most popular of all cinema genres for a legion of dedicated followers worldwide. A major contributor to that renaissance is Eddie Muller, aka "The Czar of Noir," whose popular studies of the genre led to the creation of NOIR CITY film festivals, which for more than ten years have been resurrecting classic and rare noir films in selected U.S. cities and international venues.
In this extended interview, native San Franciscan Muller discusses his early passion for films that took an unflinching look at the dark side of the American dream, and explains how that passion became a lifelong obsession with the American underbelly of criminals, femme fatales, private eyes and corrupt cops.
Muller, whose voice is familiar to noir fans from his countless DVD audio commentaries, discusses in-depth the creation of the Film Noir Foundation, the non-profit organization responsible for salvaging noir films that would otherwise have been lost and forgotten, such as The Prowler, Cry Danger, Loophole, and The Hunted, among many others.
In addition to detailing the influence of noir on American cinema, CZAR OF NOIR also reveals the passionate, personal side of Eddie: how he was introduced by his father, a legendary San Francisco sportswriter, to boxing, a world that influenced his work as a prize-winning novelist (The Distance and Shadow Boxer). He also provides the back-stories of all of his popular non-fiction books, including Tab Hunter Confidential: The Making of a Movie Star, a national bestseller he wrote with the one-time Hollywood heartthrob.
This in-depth interview with one-time "Creature Features" host John Stanley is augmented by film clips from such classics as The Maltese Falcon, Thieves' Highway, The Big Combo, Gilda, and The Big Sleep. Eddie was a teenager when he first met Stanley, who was working at the time as an entertainment writer for the San Francisco Chronicle, and Muller credits Stanley with inspiring him to write about film in general, and noir in particular.
BONUS FEATURES
The Grand Inquisitor (2008, 21 minutes). A horror-mystery tale written and directed by Eddie Muller, starring legendary blacklisted Hollywood actress Marsha Hunt and Leah Dashe.
Plus, The Making of The Grand Inquisitor, a behind-the-scenes documentary edited by Wayne Hess (2010, 15 minutes).