DARK CITY DAMES
Regan Books / Harper Collins
Hardcover Edition: May 1001
Trade Paperback Edition: July 2002
Film noir was the dark side of the movie's happily-ever-after mythology. Sinister and sexy, it forged a new icon: the tough, independent, take-no-guff dame. Determined, desirable, dangerous when cornered, she could handle trouble—or deal out some of her own.
If you thought these women were something special on-screen, wait till you meet the genuine articles. In Dark City Dames, acclaimed film historian Eddie Muller profiles six women who made a lasting impression in this cinematic terrain—from veteran "bad girls" Audrey Totter, Marie Windsor, and Jane Greer to unexpected genre fixtures Evelyn Keyes, Coleen Gray, and Ann Savage. The book surveys the lives of these formidable women during the height of their careers circa 1950, as they balanced love and career, struggled against typecasting, and sought fulfillment in a ruthless business. Their personal stories—teeming with larger-than-life characters like Howard Hughes, L.B. Mayer, Robert Mitchum, Otto Preminger, and John Huston' offer an illuminating counterpoint to their movies, such as Out of the Past, Detour, The Lady in the Lake, and The Killing. Then Dark City Dames revisits each one of these women today, fifty years on, to witness their hard-won—and triumphant—survival. On every page their own voices ring through, reflecting on their lives with as much passion, pain, intelligence, energy, and humor as any movie script.
SAYS EDDIE "Sometimes selling a book is blissfully simple. I sent a two paragraph fax to Overlook and said 'Somebody's going to do a film noir poster book and it might as well be me.' It took about two years to assemble and every minute was fun. If you don't love this stuff, you're not an American—or French, Italian, German, British, Spanish, Japanese, Swedish . . . A dame with generous decolletage brandishing a .38—who doesn't love that?"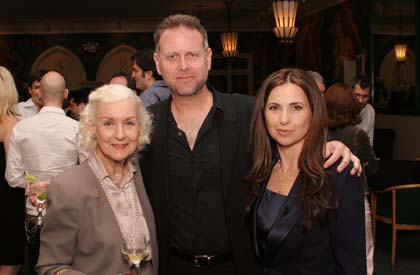 Eddie with Ann Savage and Judith Regan at a party in the 20th Century-Fox commissary, celebrating Judith moving her base of operations from New York to Los Angeles.