FILM NOIR DVDS — SPECIAL FEATURES
Audio Commentaries / Featurettes / Interviews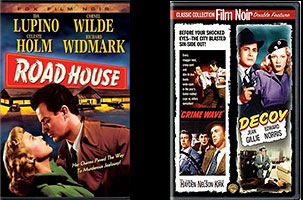 Eddie Muller has now done more than 20 "yak tracks" on DVD releases, earning a reputation as one of the most informative and amusing commentators in the home entertainment business. If you don't believe us, read what critic Ed Blank says in a Pittsburgh Tribune feature lauding Eddie's work.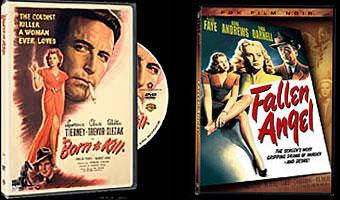 Most recently, Eddie was joined by colleague Kim Morgan for the audio commentary on Road House. Entertainment Weekly named it one of the best DVDs of the year, thanks mainly to the yak track. Eddie also appears in on-camera interviews for the film, as well as for Moontide, included along with Boomerang as the latest trio of Fox Film Noir releases. Eddie's commentary for Crime Wave, with James Ellroy, was cited by Entertainment Weekly critic Ken Tucker as one of the reasons he tapped Crime Wave as a "Best of 2007" DVD release.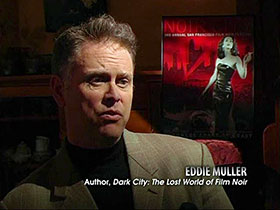 Eddie also appears on-camera as a narrator of the 30-minute documentary "Shadows of Suspense," a special feature on the making of Double Indemnity, included on the Universal's deluxe DVD edition of the film.
Other on-camera appearances are featured in two Gary Leva-produced DVD docs, "Film Noir: Bringing Darkness to Light" in WB's Film Noir Collection Vol. 3 and "One Magnificent Bird" on The Maltese Falcon Special Edition DVD. Eddie also appears on a "The Quintessential Film Noir," a special featurette on the DVD release of Joan Crawford's Possessed.
For 20th Century Fox Home Entertainment Eddie has provided commentaries for: I Wake Up Screaming, Somewhere in the Night, House on 92nd Street, Where the Sidewalk Ends, No Way Out, Fallen Angel, The House on Telegraph Hill, and The Brasher Doubloon.
SAYS EDDIE Doing the audio commentaries is a fun and liberating experience, because I finally get to say, for the record, all the insanely trivial background stuff that goes through my head while I'm re-watching these films. It's a stream of consciousness riff, recorded in a cramped sound booth as the film unwinds on a monitor. Then it's mass-produced and distributed, and way after the fact thousands of people occupy my brainspace for 90 or so minutes. Weird. If somebody talked this much during a movie I was watching, I'd kill him.