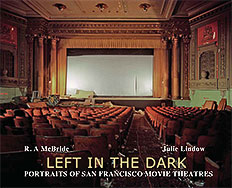 "In December 2001, a friend and manager of the Castro at the time told me the theatre was about to undergo a major renovation. It would be empty and I could bring my cameras. I would not be distracted by an audience or the buzz in the air. I brought my medium-format camera to shoot the hard to reach nooks and crannies and rented a fisheye lens to capture the Castro's grandeur… I photographed the removal of the old seats, taking shots every few hours until nothing was left. I squeezed into small spaces to shoot the decaying fire hoses, the torn curtains. I didn't know it then, but I had begun what would become Left in the Dark."
—R.A. MacBride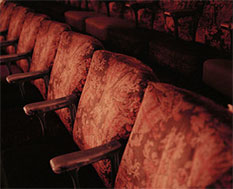 LEFT IN THE DARK: PORTRAITS OF
SAN FRANCISCO MOVIE THEATRES
Charta Art Booksm, September, 2010
Editor Julie Lindow and Photographer R.A. McBride
with contributing writers Elisabeth Houseman,
Liz Keim, Eddie Muller, Katherine Petrin, and Melinda Stone
Left in the Dark: Portraits of San Francisco Movie Theatres celebrates twentieth century movie theatres and moviegoing through lush full-color fine art photographs, and personal essays that offer both scholarly and literary appeal. R.A. McBride's vivid portraits of San Francisco movie theatres, including the Castro, New Mission, and Balboa to name a few, illuminate the role of the movie house as a great social nexus.
McBride has gained rare access to the interiors of closed theatres, picturing them empty and allowing the grandeur of the architecture to take center stage. Casting the theatres as characters within the city's cultural landscape, scholars and film exhibitors such as Rebecca Solnit, Eddie Muller, Chi-hui Yang, and Gary Meyer, among others, uncover a spectacular variety of forgotten or never-before revealed histories.
As society retreats from public life into the anonymity of multiplexes and personal entertainment technologies our moviegoing heritage becomes an ever more significant and inspiring source of ideas for new communal cinematic experiences. San Francisco is particularly fortunate to be one of the world's most vital moviegoing cities and to still have so many of its historic movie theatres. By drawing a continuum from past to present, Left in the Dark offers hope that even as these gorgeous historic theatres crumble, the spirit of Cinema thrives.
SAYS EDDIE This book is extremely timely considering the rate at which old movie houses are being shuttered. In my youth, I watched films in virtually all of the theaters shown in this volume, and it is a very melancholy experience to view Ms. McBride's evocative photos of these now-derelict palaces. My contribution is two-fold: a very impassioned reminiscence of my early moviegoing experiences, counterbalanced by a more pragmatic, even jaundiced, depiction of how movie exhibition actually worked (not unlike organized crime) in the glory days of Hollywood. I highly recommend this book, especially to young people who don't really understand the role that "going to the movies" played in American life.